From a private email sent to "A Guidebook"-site:
From: [G.L.]
To: [dve]
Sent: Monday, September 18, 2006 4:03 PM
Subject: Guidebook to the Carl Barks Universe
- - - - - - - -
I recently fell over Carl Barks' drawing "i, too, like to do things
with architecture, kalervo!" (Entry awpid74u01 in your guidebook). I
would ask you if it'd be possible to obtain a larger image of you, as
I would like to use it in an art history homework of mine and the
picture on the website is somehow too small to print orderly.
As concerning your question with awpid86u01 (ich trinken zu ihr!),
you are right that it is grammatically incorrect. The correct form
would be "Ich trinke auf Sie/Dich" – the latter meaning either you
(formal or plural) or thee (informal, singular). Anyway, in spoken
language one would only say "auf Sie/Dich!".
Well, it'd be nice if you could answer this ...
- - - - - - - -
Drawings mentioned in the email: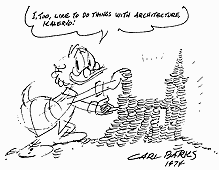 http://www.seriesam.com/barks/art_pcd.html#awpid74u01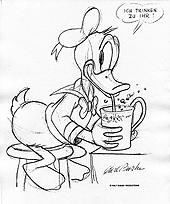 http://www.seriesam.com/barks/art_pcd.html#awpid86u01